Recover from Heavy Shopping this Holiday Season with Janitorial Cleaning in Grand Rapids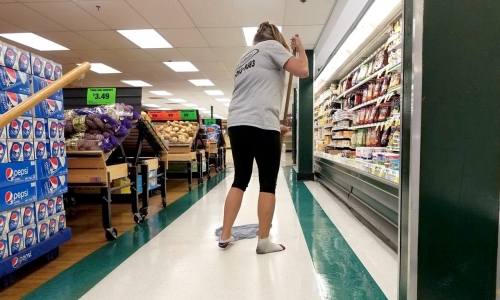 As stores are bound to see surges of people this holiday season compared to last year, janitorial cleaning in Grand Rapids can be just what they need to recover from large crowds using spaces. With many retailers spreading out Black Friday shopping to multiple days to even a week's time, they need a company that can help them maintain a spotless shopping experience day after day, and that is exactly what A & L Janitorial & Cleaning Services will provide.
Cleaning services from front to back
When you hire A & L Janitorial & Cleaning Services for your retail space this holiday season, you can count on us to get your store in the best condition before the next day of exciting shopping happens. From front to back, your store will be spotless when our team comes in to handle your cleaning. Floors, bathrooms, employee areas, and more can be cleaned by our team to ensure that your store is ready to go each day that it opens its doors for your customers. And, when the holidays are over, you can go to a more regular schedule of cleaning with our team, ensuring that your space is getting the best clean possible year-round!
Janitorial cleaning in Grand Rapids handle messes
If, during your holiday shopping specials, you have messes that occur that need to be taken care of promptly, you can count on our janitorial cleaning in Grand Rapids to help. We handle both regularly scheduled cleaning as well as emergency cleanup duties that may be required during the holiday shopping season. Messes can sometimes happen at the worst times, and it is at these times that you want to be sure that you have a professional janitorial team on your side. A & L Janitorial & Cleaning Services has provided companies of all industries with the quality cleaning they need, when they need it, so when you want someone on-call this holiday season of shopping, you can count on us for any cleanup emergency you might be faced with.
From general janitorial services to specialized cleaning, A & L Janitorial & Cleaning Services has everything that your business needs to confidently go into the holiday shopping season with your cleaning this year. To have a professional team come handle your scheduled cleanings or come handle any emergency messes that need to be taken care of, depend on our team.