Office Cleaning in Battle Creek Helps Workers Confidently Return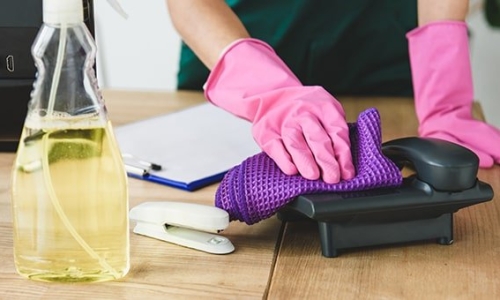 With COVID number still high, office cleaning in Battle Creek from A & L Janitorial & Cleaning Services can help workers confidently return to in-person work. As more and more businesses try to encourage workers to return after another wave of the pandemic has come and gone, office managers can help their workers feel safer about returning to their workspace by regularly scheduling office cleaning with our team. Our professional cleaning staff can make a plan of action with you to ensure that all your areas of high traffic in your office receive the clean they need to keep everyone healthy.
We get every surface
One reason that office cleaning in Battle Creek can be such a benefit to office managers is because of how thorough our team is when cleaning a space. Because we have worked with offices of all varieties and know the problem areas that likely get missed, our team can help you to get a quality clean that is unmatched. We will clean all the regular areas of your office that require our attention as well as those that might need some special attention or equipment to deal with them effectively. Whatever your office's unique needs, you can count on the team at A & L Janitorial & Cleaning Services to get it taken care of.
Always working with our customers
If you are considering office cleaning in Battle Creek from A & L, we encourage you to reach out for a free quote online! Our team works closely with our customers to make sure that their needs are met. We have 24/7 services available for office cleaning, so you can always depend on us whenever you need us to get your office in a cleaner spot. Whether it is during the night to help your office be ready for workers in the morning, or you need to clean spaces between shifts during the day, our team is at the ready to give those spaces the quality cleaning they deserve.
As COVID rates continue to drop again, A & L Janitorial & Cleaning Services is here to provide quality office cleaning in Battle Creek to ensure that spaces stay clean for returning office workers. If you have had employees returning more regularly and want to make sure that they stay healthy while coming into the office, count on A & L to disinfect your spaces and keep they clean until everyone can feel confident once again.