Keep Business Spaces Spotless with Floor Stripping Services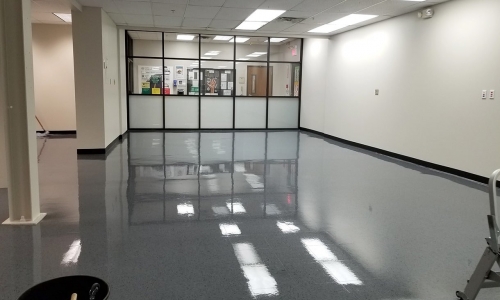 As we continue to have snowfall, which leads to salt being used generously on roads and sidewalks, your business can keep spaces clean through winter with floor stripping and waxing services. At A & L Janitorial & Cleaning Services, we know that melting snow with salt from outside that clings to shoes and boots can stain floors and give them an unpleasant appearance. With the professional floor care services that our experienced team provides, you can rest easy knowing that all winter long, your business is getting the proper floor care to maintain a professional appearance.
Step-by-step process of cleaning
At A & L Janitorial & Cleaning Services, we clean every space with a thorough process that ensures every inch of the space is cleaned the way it needs to be. When you take advantage of our floor stripping services, you invest in a multi-step process where we sweep, dust mop, vacuum, clean, scrape, and seal the floor. This can help us to remove dirt and dried salt pieces that have made their way to your floor, while cleaning up any wax buildup underneath and removing dirty reflections. Nothing quite dirties a floor like the residue from snow being brought in through winter, so A & L is here to help when you need us.
Floor stripping when you need it
If you have guests regularly coming into your space and would like your floors to be as clean as possible on a regular basis, A & L Janitorial & Cleaning Services can provide scheduled cleaning for your business. By setting up a regular schedule of floor stripping, waxing, and refinishing, your space can get the quality clean it needs to help it last you longer while also keeping it looking fresh for guests.
Always providing businesses with the best clean available, A & L Janitorial & Cleaning Services is here to give your spaces the attention they need through winter and beyond. Contact us soon to get scheduled with us!