Fight Seasonal Allergies through Regular Carpet Cleaning in Kalamazoo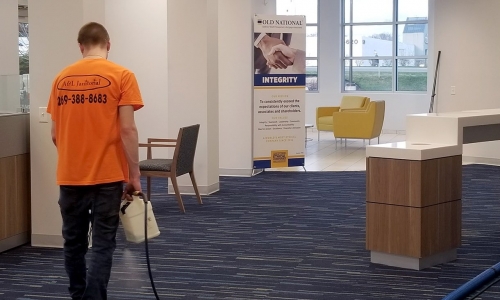 Continuing onward into spring and summer, carpet cleaning in Kalamazoo can be more important as seasonal pollens, mildew, and more make their way back. A & L Janitorial & Cleaning Services provides the professional carpet cleaning care that will help your spaces stay cleaned throughout the season to help fight allergens for your workers and guests. With our carpet care, you can be sure to keep spaces cleaner for everyone on a regular schedule.
Effective carpet cleaning in Kalamazoo
If you know that seasonal allergens are going to be a problem for your workplace, you can trust carpet cleaning in Kalamazoo from A & L to help. We use some of the latest equipment and technology to effectively clean areas, removing stains, smells, allergens, and more. Allergens can stick to shoes, fly in every time the door is open, and more that bring them into spaces where they often stay. Those suffering from seasonal allergies know that this can spell a miserable experience throughout the day consisting of itchy eyes, sneezing, and more. But, with A & L, all these symptoms can be more easily avoided.
Regular seasonal cleaning prevention
If you offices faces seasonal troubles, whether it is springtime pollen or winter salt stains, A & L Janitorial & Cleaning Services can provide regularly scheduled help to make sure your space always stays up to standards. By simply requesting a free quote with us, we will come in and determine, based on what kind of clean you are looking for, what plan would work best for your space. We have cleaned spaces for offices of all different types and know where to look for to clean up even the most hard-to-reach places on a regular basis.
With scheduled specialty carpet cleaning in Kalamazoo with A & L, you can help office spaces stay as dust and pollen free as possible through spring and summer for employees with allergies. Give us a call today to get a consultation scheduled and to learn more about what we can do for you.