Big or Small, Janitorial Services in Grand Rapids Do It All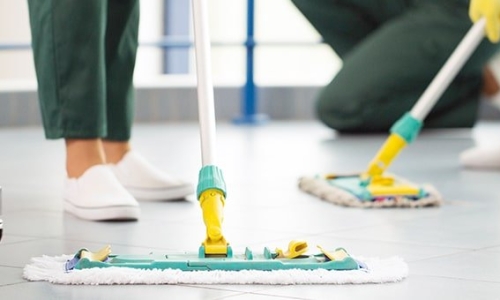 When you need janitorial services in Grand Rapids, the team at A & L Janitorial & Cleaning Services is here to help, no matter how big or small your workspace is. Offering comprehensive janitorial services to any company that needs quality cleaning for emergencies, scheduled cleanings, and more, A & L is the dependable cleaning company that businesses of all sizes how relied on for decades.
Offering more than just simple cleaning services, A & L brings the experience, professional-grade cleaning products, and dedication to your space to provide you the best clean possible.
Full-service cleaning for every space
When A & L Janitorial & Cleaning Services comes to work in your space, we provide services that are unmatched. Some of what we provide includes carpet cleaning, dusting, floor maintenance, pressure washing, steam cleaning, upholstery cleaning, and much more. No matter how large or small your space is, these services can be performed to ensure that it is always as clean as possible day after day.
Whatever the needs of our clients, A & L works with them to provide cleaning services that are tailored to those needs, so they are always happy with what we do. We care about our customers and their need for a clean space, so our professional team works to always perform a thorough and satisfactory job.
We work in your schedule
Depending on when your busy hours are, A & L Janitorial & Cleaning Services will work together with you to set up a time that doesn't interrupt workflow. Whether your space needs to be cleaned every day of the week at night or only on weekends to prepare for another busy work week, our team will provide the clean you need, when you need it.
Part of why our past customers have been so pleased with the services we provide is because of our willingness to work with them. By giving our customer's workspaces the care and attention they desire, while going beyond the industry standard of cleaning, our janitorial services in Grand Rapids continue to be the top choice for those in need.
Providing the quality cleaning that companies need where and when they need it, A & L Janitorial & Cleaning Services is here to help you find a better way of keeping workspaces professional and spotless. Whether you are a small, family-owned business or a large corporate office, our team is more than happy to figure out how to make your space really shine.