Benefits of Carpet Cleaning in Kalamazoo this Spring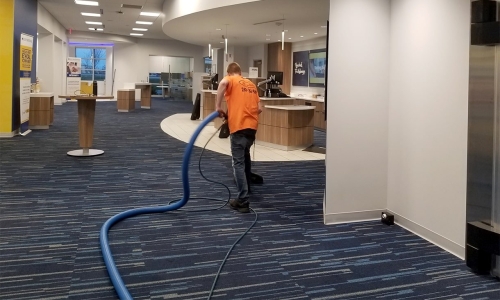 As spring comes rolling in, carpet cleaning in Kalamazoo can be a great solution to keep your spaces fresh and clean throughout the work week. A & L Janitorial & Cleaning Services work to provide every office or business space with the quality carpet cleaning that they need to maintain a presentable space that customers can appreciate every time they visit. Through extensive cleaning routines, our team brings spaces to the level of clean that visitors will notice.
Through effective carpet cleaning with A & L, spring messes can be maintained more easily, without any stress. Our team always provides the best cleaning that spaces can count on.
Melting snow and mud messes
As winter melts away and spring rains make their way into our regular forecast, the ground outside can often become a muddy mess that can bring itself to your business on the shoes and boots of your visitors. Although this is an inevitable occurrence, it is one that you can get a handle on better with a dedicated cleaning team supporting your space.
A & L Janitorial & Cleaning Services make sure that any muddy mess from outside is cleaned day in and day out. With thorough cleaning and the latest cleaning products and equipment, you can always depend on our team to get your space ready for future visitors.
Carpet cleaning in Kalamazoo handles it all
No matter what kind of stain or mess your carpet may be facing, the carpet cleaning in Kalamazoo provided by A & L Janitorial & Cleaning Services is your dependable source of quality cleaning. With the ability to customize our services based on what your business space needs, our team can help you clean a variety of regular messes that can come in this spring and beyond.
Our focus is to provide the best cleaning experience for every customer, no matter their needs. With a long history of success with spaces that needed a quality cleaning, you know that our team will provide your space with what it needs to stay fresh for visitors each day.
As a locally owned and operated business, A & L Janitorial & Cleaning Services provides a clean you can count on with the focus and attention that only a small business can provide. With a large variety of services available for spaces both big and small, our team will bring your business to the level of cleanliness that visitors are sure to notice.